OUR MISSION, VISION & MINISTRIES

MISSION
We exist to foster people's . . .
* encounter with Jesus
* growth as his faithful
followers
* participation in bringing his
kingdom to our community

THE GATHERING PLACE
A "third place" in the community
that:
. . . meets a need for a comfortable space to gather in, build relationships, and engage in natural conversations about
life and God
. . . is a neutral, non-threatening entrance where people encounter Jesus through his followers who volunteer in this mission
. . . provides a welcoming, hospitable space for townsfolk and travelers to find rest and refreshment
THE COFFEE DEPOT
Provides a desirable incentive for people to gather by:
. . . providing excellent espresso based drinks, smoothies, and limited food items
. . . providing a relaxed, inviting atmosphere for people of all ages
. . . providing our community with a charming "third place" that enhances the image of our town, especially with tourists
. . . providing a venue for Christians to be part of a mission that reaches out to the community with the love of Jesus

HOT SPOT ("Hawk Spot")
WIFI access for
students whose families cannot afford internet at home and visitors who are enjoying the scenic drive along Highway 89.
Working with the local school district and communication company, internet bandwidth would be upgraded for free to accommodate the increase in useage.
There will also be a charging station for electric vehicles.

THE COFFEE DEPOT
Nestled between the city park, rodeo grounds, box car rooms and Hwy. 89 sits the historic, remodeled Mt. Pleasant train depot. This is the charming new location for a specialty coffee house which serves as a community gathering place for students, adults, and travelers. The Coffee Depot will offer espresso based drinks along with other drinks such as steamers, smoothies, and hot chocolate. In addition, the Coffee Depot will serve limited food items such as yogurts, waffles, wraps, and soup in a a bread bowl. The Coffee Depot will continue to be the tourist information center for travelers coming into Mt. Pleasant along Highway 89.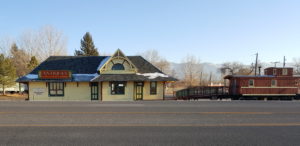 Wellspring Ministries is a 501(c)3 non-profit corporation which was created in September, 2017 to promote the spread of the Gospel of Jesus Christ in central Utah.